Introduction
I filed a compliance report with the United States District Court for the District of Columbia (the Court) today that provides the results of my tests on Ocwen's compliance with the National Mortgage Settlement (Settlement or NMS) servicing standards during the third and fourth calendar quarters of 2014. This report is the first that addresses Ocwen's compliance on its entire portfolio, which includes both the loan portfolio acquired from the ResCap Parties and all other loans serviced by Ocwen in its mortgage loan portfolio.1
Ocwen failed four metrics in the second half of 2014. In addition, several metrics with timeline requirements were deemed failures in that time as part of Ocwen's Global Corrective Action Plan (Global CAP) to address its incorrect dating of borrower correspondence. In all, ten metrics were subject to individual corrective action plans (CAP), the Global CAP or both as of the fourth quarter 2014.
This report covers the results of my professionals' testing of Ocwen's performance in the second half of 2014 and the development and implementation of the corrective action plans and Global CAP. Ocwen and my professionals have continued reporting and testing on compliance for the first half of 2015, including providing updates on the status of the corrective action plans and the Global CAP, and their associated remediation plans. I will report on the results of those activities in the near future.
Sincerely,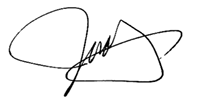 Joseph A. Smith, Jr.