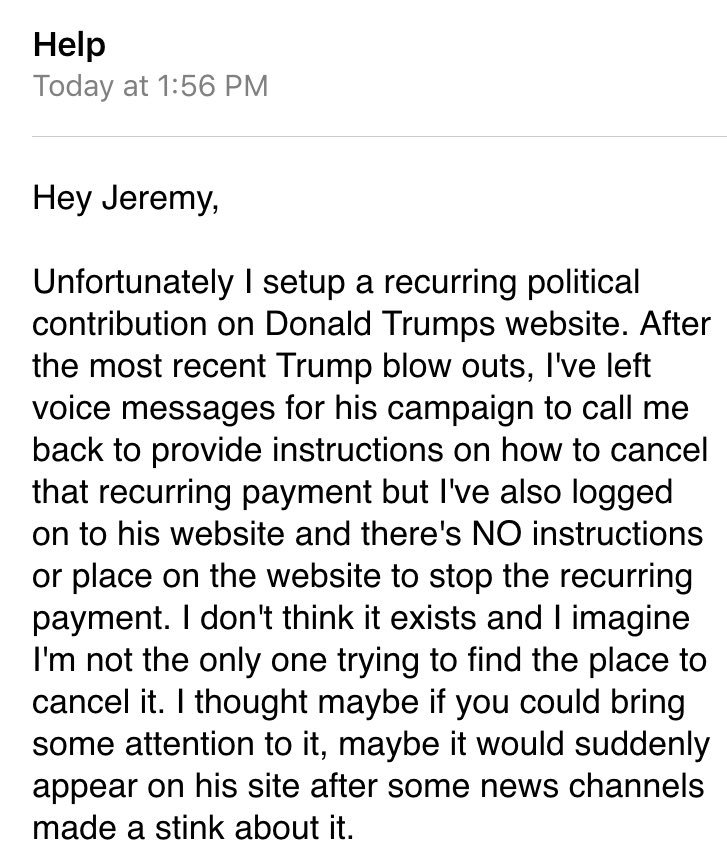 INBOX: Help, I set up a recurring contribution to Trump's campaign & want to cancel it: (cc: @realDonaldTrump) pic.twitter.com/TFOHhdZDlJ

— Jeremy Diamond (@JDiamond1) August 4, 2016
This is really scary...
You used to love Republican presidential nominee Donald Trump, but now you've had a change of heart — and want to cancel your recurring monthly donation to his campaign?
Too bad.
As the screenshots below demonstrate, there is no clear option on Trump's website to cancel monthly contributions or remove your credit card information: The site layout makes it appear that once you've set up a donation, you may only switch from one valid credit card to another.
There is, actually, a way to cancel — but only if you register your account by setting a password and navigate through a labyrinthine process.
This design flaw first came to light Wednesday, when CNN reporter Jeremy Diamond tweeted a screenshot of an email from a disenchanted Trump donor who alleged that the campaign has not returned voice message requests to cancel contributions. (The identity of the alleged donor is not shown.)
And yes, the reporter went on Hillary Clinton's campaign website, and there is information on her website to cancel payment. Read on the article. Click here.