The GOP is worried about invasions? Time for a history lesson.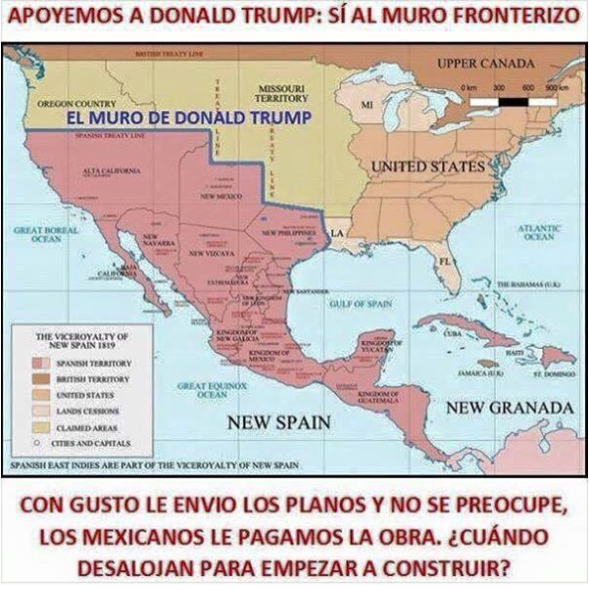 APOYEMOS A DONALD TRUMP. SI AL MURO FRONTERIZO
The text reads (translated figuratively):
WE SUPPORT DONALD TRUMP: YES TO THE BORDER WALL
//
WE'LL HAPPILY SEND YOU THE PLANS, AND DON'T WORRY, MEXICO WILL PAY FOR IT. WHEN WILL THE PRE-CONSTRUCTION EVICTIONS START?
The point, of course (to belabor the joke), is that the US-Mexico border that Donald Trump and others treat as inviolable has actually shifted substantially over time — and the very places where Americans today are most liable to imagine an "invasion" of immigrants in fact belonged to Mexico long before they ever belonged to America.
El Muro is translated in English: The Wall. And here is what the US-Mexico border map looked like from 1842-1845:
Memo to Donald: California, Nevada, Utah, Arizona, and parts of Colorado and Texas belong to Mexico. And Alaska was Russian America. lol! Maybe that's why Sarah Palin stated that she can see Russia from her Alaska home.